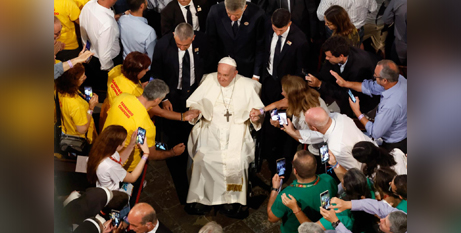 Pope Francis arrived in Lisbon yesterday for the World Youth Day festival with a blunt message for European leaders: invest in young people rather than weapons. Source: NCR Online.
"It is troubling when we read that in many places funds continue to be invested in arms rather than in the future of the young," Francis said.
With war raging on the continent, the Pope lamented that Europe – long celebrated for its commitment to dialogue and social solidarity – seems paralysed by its inability to find a peaceful way forward.
"Where are you sailing, if you are not showing the world paths of peace, creative ways for bringing an end to the war in Ukraine and to the many other conflicts causing so much bloodshed?," the Pope asked.
Nearly 400,000 young people from some 200 countries – including Ukraine and Russia – have descended upon Lisbon for World Youth Day .
The Pope's first stop yesterday was a private meeting with Portuguese President Marcelo Rebelo de Sousa at the country's presidential palace. Outside, thousands of young people hoping to get an early glimpse of the pontiff chanted, "We are the youth of the Pope," while waving various country flags and banners.
Following an official welcome ceremony, replete with a military cannon salute, the Pope made his way to Lisbon's Cultural Centre of Belém, where he used his first public remarks to effectively lead an examination of conscience for the continent's political and diplomatic leaders, encouraging them to seek global solutions to the problems facing a divided world.
Francis said that the very fact that hundreds of thousands of young people have come from around the globe this week to encounter each other offers an antidote to today's societal ills.
"World Youth Day," he said, "represents a chance to build together." 
www.vatican.va